Wield your sword and hold your shield, o valiant knight, for the time has come for you to fight for the land of Tolomera to Steam! Maldita Castilla EX, the most addictive action-arcade game of the Spanish indie scene is about to land on Steam. Abylight and Locomalito's game has just started its Steam Greenlight campaign in order to get released on Steam. Only you, our bravest and most loyal knight, can help Don Ramiro to get the coveted Greenlight!
Maldita Castilla EX is an extended version of the renowned classic arcade Maldita Castilla, originally created by the Spanish indie Locomalito, in collaboration with Abylight Studios. Maldita Castilla was originally published back in 2012. This lineal action-arcade gathered unanimous recognition both from gamers and critics, not only for its addictive gameplay, but also for being a double tribute: on one hand, classic arcades from the 80s such as Tiger Road, Shinobi or Ghosts'n'Goblins; and on the other hand, to European medieval history and legends.
Check out all the details about the new features of Maldita Castilla EX in our press kit!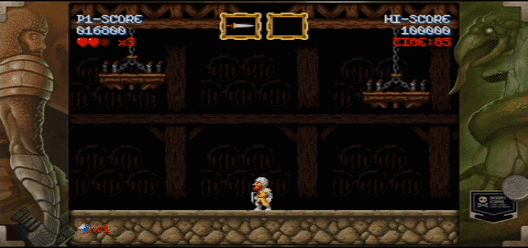 Please visit our Greenlight page and give us your YES to support Maldita Castilla EX! We are working very hard to bring you this classic arcade along with new content not only to attract new players, but to appeal to all those that already enjoyed the awesome original game. Help Maldita Castilla EX get Greenlight!