Prison Tycoon: Under New Management is looking for a good Warden. Are you up for the job? Let's see its current status and comment on the latest updates on Steam, as well as reviews from some users.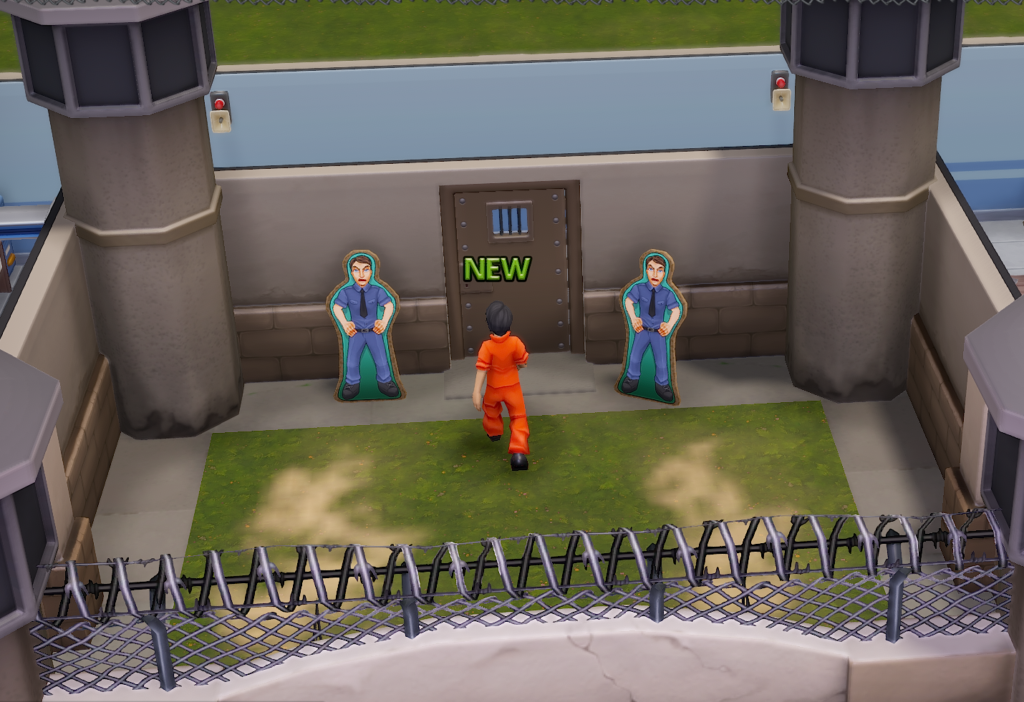 To jail! Well, not exactly. We need you to go to jail, but because we have a new wave of prisoners who need urgent rehabilitation. In this tycoon game, you should build an intricate prison, hire the best staff and manage your penitentiary to create the perfect rehabilitation place while you turn it into a profitable business.
Contrary to what people may think, Prison Tycoon: Under New Management does not encourage violence and punishment with prisoners, but tries to rehabilitate them all in the best way possible – violence is never the solution!
The goal of a good Warden is not to punish their prisoners, it's to rehabilitate them into productive members of society. In Under New Management, each inmate must work through their own issues that landed them in prison, and it's your job to provide them with the help they need to get healthy.
Before we start reviewing the updates, we will briefly review the most important features of the game to keep in mind all the possibilities it offers and to understand the mentions of improvements and bug fixes:
Build your own prison from scratch
Plan and build your own prison from the ground up. Secure government grants, hire guards and staff, and begin welcoming new prisoners.
Choose a biome for your prison
"Tropical", "Tundra", "Taiga", "Swamp" or "Desert"? Each with its own unique challenges and environmental factors.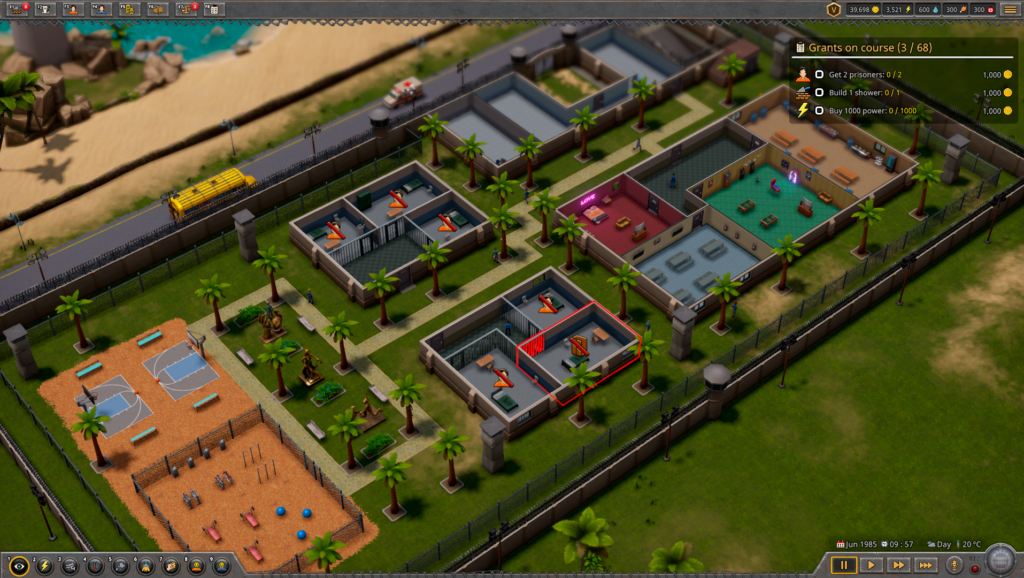 Balance between buildings and staff
Build a huge prison, crafting every building, every room, and every path. Then furnish them as you like!. Be sure the layout you design makes efficient use of the power grid and water systems.
Hire expert staff to fill all kinds of roles in your prison. Assign them to work, promote the best and fire the rest. Maintain your facilities for proper functionality and repair them as they wear down over time. Your employees will help take care of repairs, cleaning, and gardening at your direction.
Efficient and profitable
Manage the economy of your prison: apply for loans to expand your facilities while managing the penitentiary policies to save money. Make sure you buy and manage your resources well to keep the staff and inmates well supplied.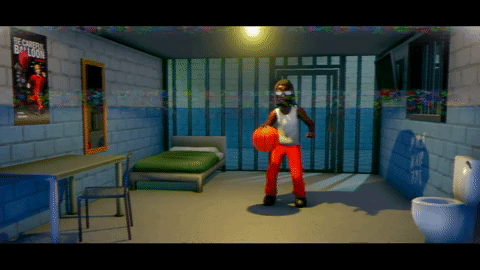 Monitor every movement
Design and maintain the security systems of your prison and be ready for night escapes. Decide on the placement of cameras, watchtowers, and guards to make sure your prison is a safe place.
Monitor the well-being of your charges, ensuring they are happy and healthy. Make sure prisoners are getting proper nutrition and exercise, and staying warm enough during the cold winter months.
And most importantly, rehabilitate!
And don't forget to rehabilitate the prisoners, that's what it's all about! This is achieved through a variety of therapies, from the zero gravity room to a hologram room. The goal is to help inmates address their issues and return to society.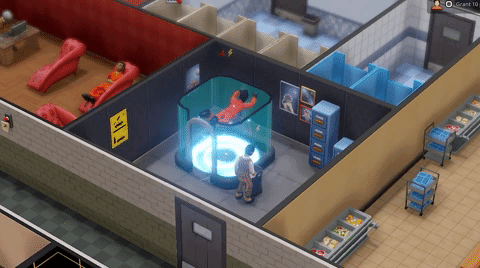 Prison Tycoon: Under New Management is published by Ziggurat and developed by Abylight Barcelona (yes, we also are an indie game developer! Check out Abylight's rebranding), and it's currently in Early Access on Steam. Since its arrival on Steam we have updated the game many times thanks to player feedback, so let's review the new features and improvements of the latest patches.
0.9.3.6 Patch – Update 3
Published on August 20th
Some players commented that the cleaning system was not working properly and some prison employees had difficulties with their tasks, so we improved these aspects and added some more: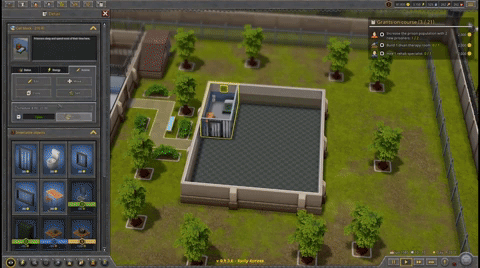 New Fights mechanic
New Copy and clone rooms
Improved staff and hiring mechanic
Fixed navigation issues
Adjusted some grants
Fixed cleaning issues
Adjustments on the economy
Addressed some performance issues
Other small improvements
v0.9.4.6 Patch – Update 4
Published on September 3rd
Players let us know that the game sometimes crashes when exiting to desktop, so we fixed it and added some improvements to the prison staff to improve the experience and interaction with them.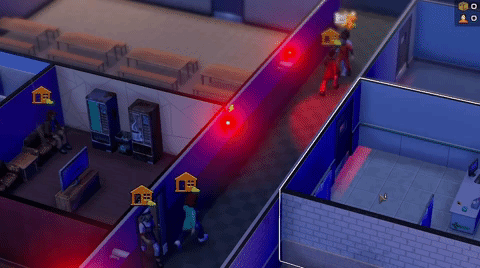 New notification system for paroles
New prisoners and staff counters on the top bar
Fixed crash after exit to desktop
Solved room cloning related bugs
Fixed some escape issues
Adjusted some economy values
Improved guard's AI
Improved room assignment picking
Decreased lights related frame drops
Adjusted prisoners stats
v0.9.5.4 Patch – Update 5
Published on September 17th
Checking the feedback from players, we detected that some of them had problems understanding all the game mechanics, so we decided to create some video tutorials to explain each feature, as well as other updates:
New Videotutorial system
New Prisoner briefing
Improved lights performance
Adjusted pathfinding
Solved too many visits issues
Fixed some object placement problems
Added contextual window on continue last game
Fixed alarm issues
Addressed crash after exit to desktop
Improved overall game performance
General bug fixing
v0.9.5.6 Patch – Hotfix
Published on September 21st
We finally fixed the problems with the escape of prisoners and we also fixed the problems with the game achievements with this patch:
Fixed pathfinding issues
Adjusted prisoner escaping issues
Fixed impossible achievements
Solved infirmary issues
v0.9.6.0 Patch – Update 6
Published on September 24th
Mechanic updates, bug fixes, and some new features with this latest update:
New prisoner reception dialog
Improvements on the prison climatization mechanic
Fixed entrance cell error
Addressed some video tutorial issues
But there is much more to come! We're still working to bring new updates, features, and bug fixes every week or every other week. Players' feedback is vital to us because they spend many hours playing and report bugs or possible improvements that make our job much easier and more satisfying.
While Steam reviews are a great way to give us feedback and suggestions, we encourage all players to join our official Prison Tycoon: Under New Management Discord channel, where in addition to talking directly with the developers, we also share experiences and screenshots about each player's prisons. It's great to have the community so involved!