When we talk about the best Base Builders or City Builders games it is impossible to not think about some certain iconic mechanics of these genres. Our goal with One Military Camp is to enter the "Olympus" of the genre, and we have included some mechanics that we consider essential in this type of games.
We launched One Military Camp on Steam last March 2 as an Early Access, and since then it has received a few updates that have improved the game experience (updates that will continue to arrive in the upcoming months, as you can see in our roadmap).
Never heard about our game? Take a look at the EA launch trailer.
One Military Camp has these top mechanics that can't be missing in the best Base Building games
Build
When talking about the best Base Builders (or City Builders) it is impossible not to talk about construction as an essential mechanic. In One Military Camp there is a wide range of buildings available since the beginning of the game, but as you can see in the best games of the genre, planning the construction is one of the pillars of success, since the threat of bankruptcy is always there.
Although it's not necessary, having some cosmetic buildings to decorate your base is always appreciated. The ultimate goal for all players ends up being the same: to have a functional base that is also aesthetically pleasing.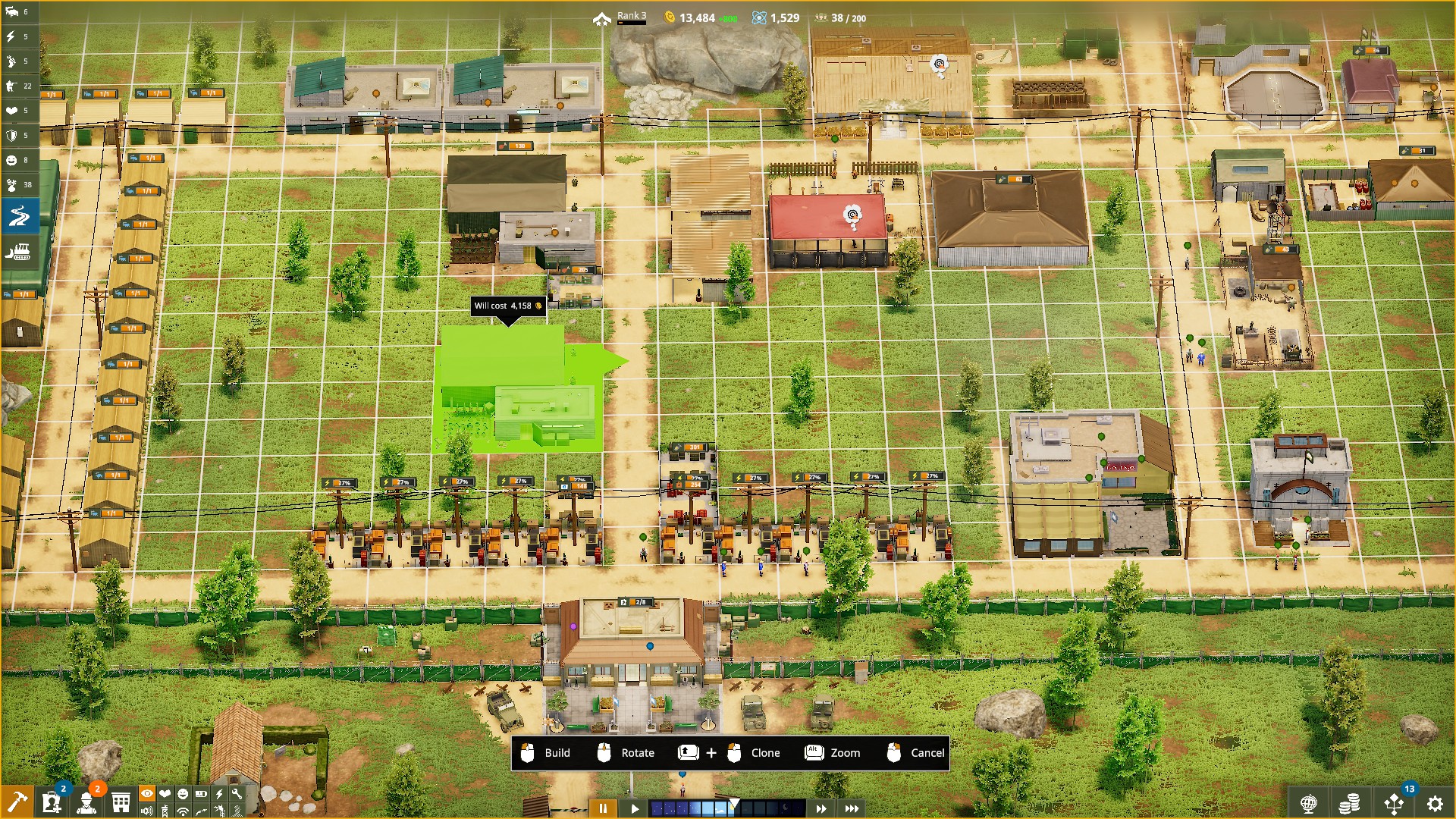 Recruitment
It is undeniable that constructing buildings is the first step in a city builder, but buildings without people living or working on them makes no sense. That is another feature that the best City builders should have: being able to hire (and choose) the staff for our base, so our camp can work like a perfectly oiled machine.
In One Military Camp, in addition to choosing your workers and recruits, you will have to pay attention to the skills of each possible recruit or worker, because even though everyone can train their stats, the skills (that affect their performance in certain jobs or at certain times) cannot be changed.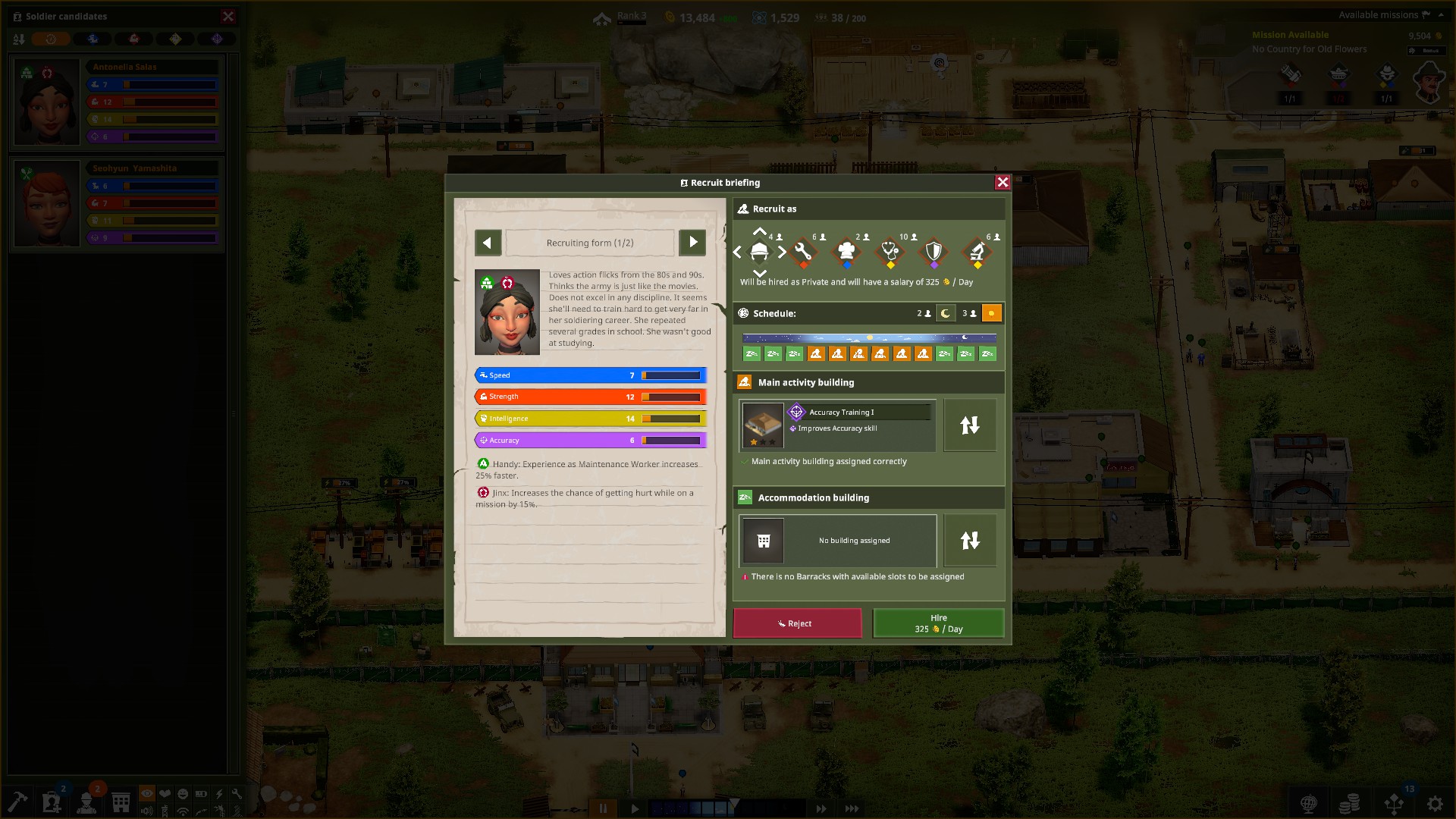 Base management
So, we have already built some buildings and hired some people to do their jobs and living comfortably. This is only the beginning, the best manage sims force us to keep an eye on our base, check that our employees have access to all the necessary amenities, assure that buildings are in good condition and that everything is well communicated.
One Military Camp has all of the mentioned mechanics (and more): resources for the different buildings (gasoline, food, bullets…), energy supplied through the electrical systems, a noise system (some buildings generate noise) that can affect the proper rest of your workers… Nobody said that managing a military camp was easy…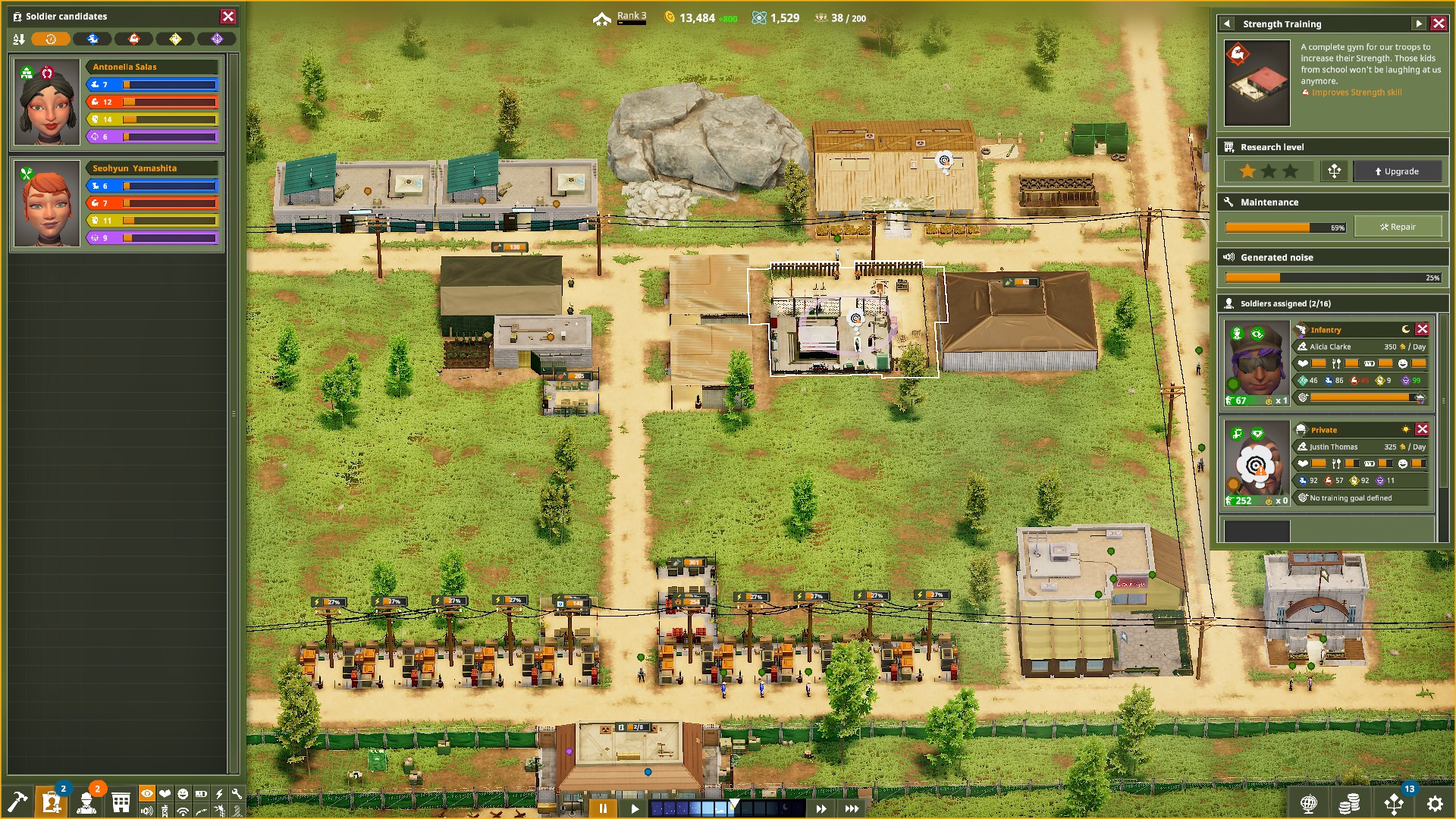 Upgrade buildings
Even though some Base Builders prefer to keep their building systems simple, the best games of the genre usually give the player the option to improve their buildings, making them more optimal, consuming less resources and improving their performance.
In One Military Camp there is an upgrade tree that offers the player the option to improve a building by up to 3 times. Although at the beginning there are some unlocked buildings, to be able to build the most advanced ones you will have to invest valuable research points in unlocking them.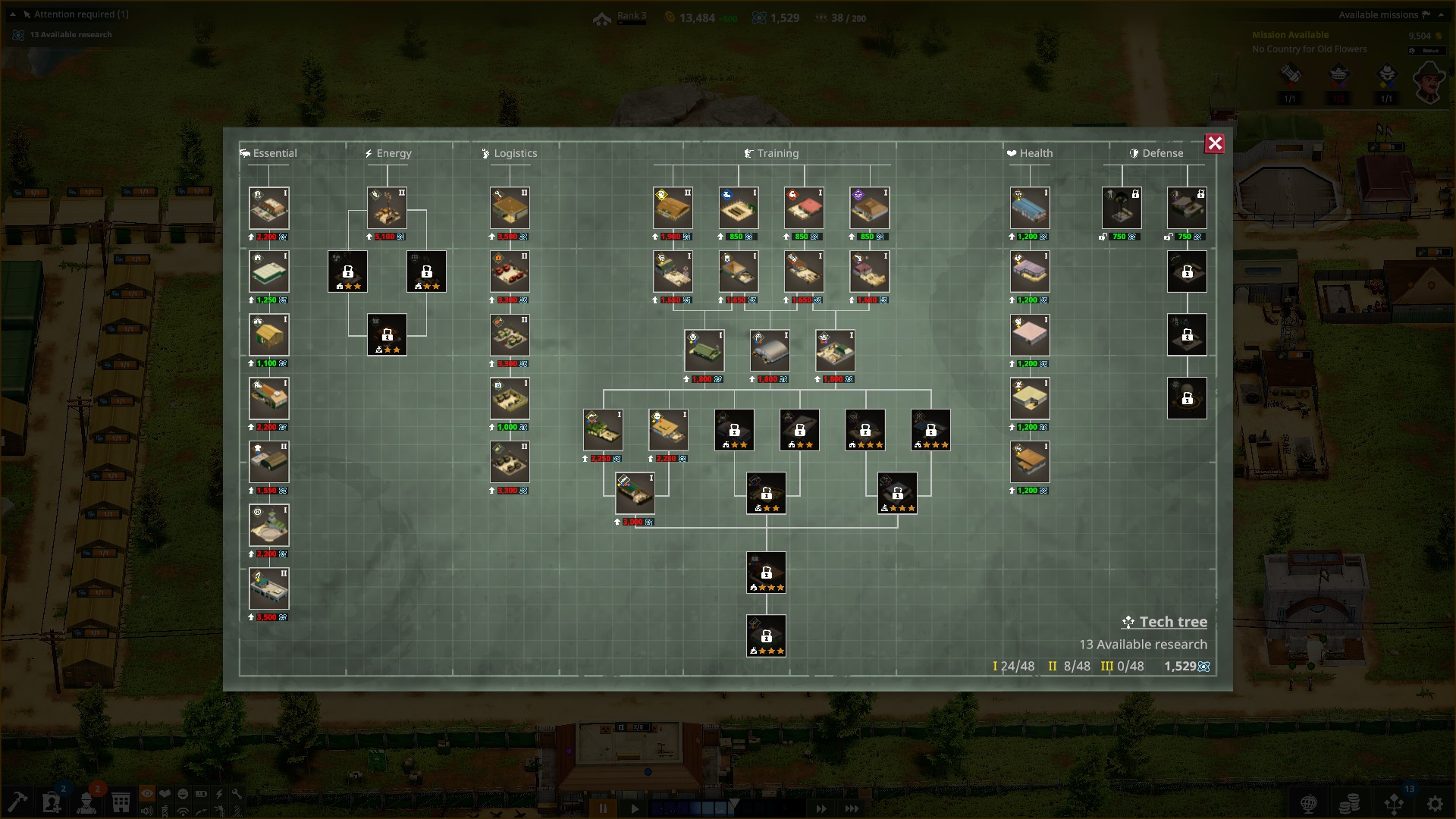 Challenges (missions and enemies)
The last essential feature within the best City Builders are the challenges. Although there are some really interesting games that prefer a more relaxed gameplay (more focused on the player being able to explore the game options without any kind of pressure), the best games of the genre usually have systems that force the player to be aware of external threats.
In One Military Camp, there are two main challenges to be aware of: the missions, which will require specialized soldiers to overcome them and advance in the game's story. The second aspect is enemy attacks, which can come in many ways, such as spies seeking to sabotage our base, dangerous attack drones, propaganda drones and even invisible enemies.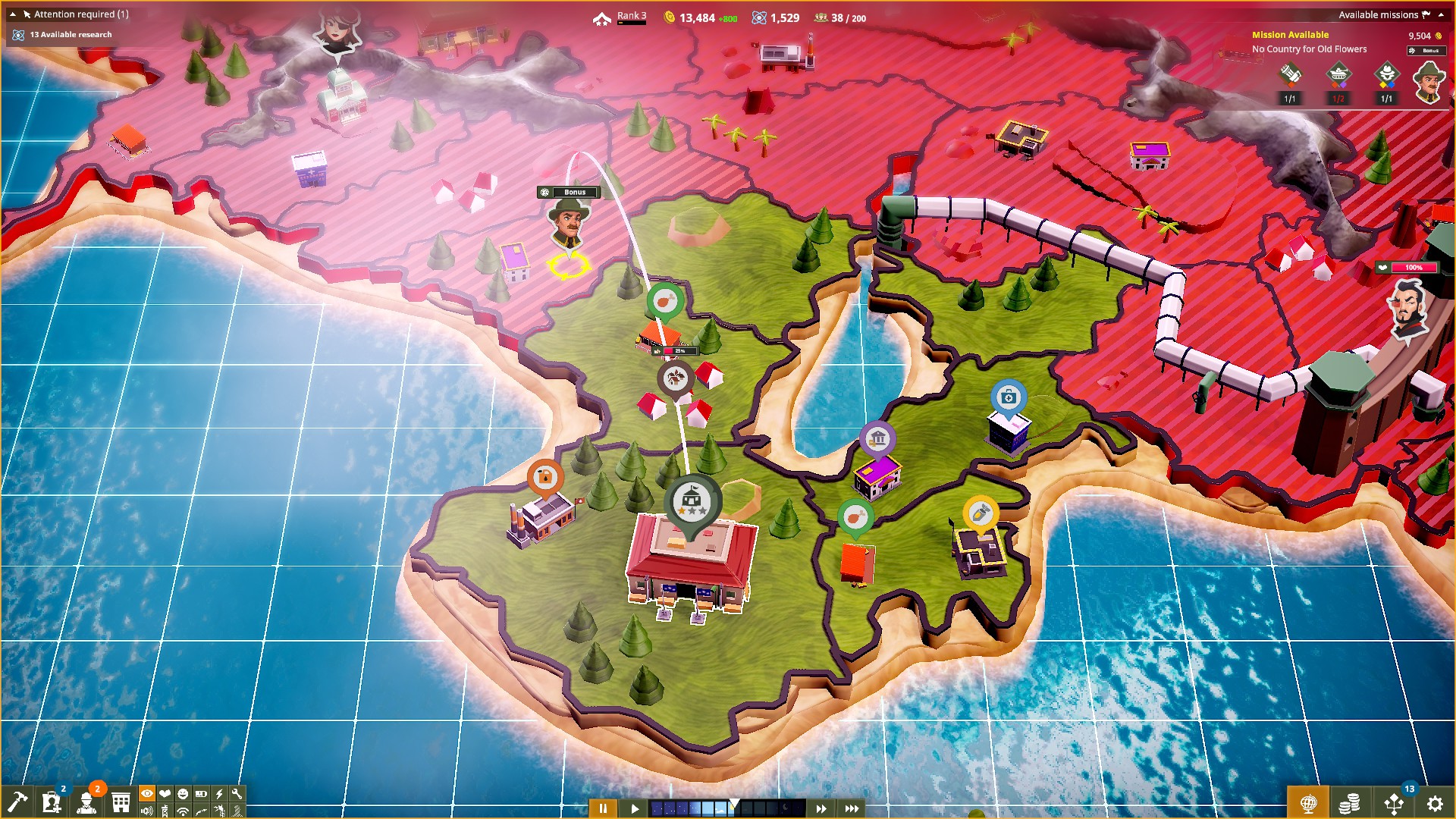 As you read above, One Military Camp is a game in constant evolution (thanks to the early access state), and with each update it becomes a better title. We invite you to take a look at our Steam page if the game has caught your attention, and remember: positive reviews on Steam help us a lot!
Thank you for building this military camp with us.