One of the most important aspects in any strategy and management game is to manage your resources properly. In One Military Camp you have to build a military camp and train a bunch of rookies to turn them into elite specialists. That means your recruits are your most precious resource and you'll have to take good care of them and guide them through the path that better suits their innate abilities.
If you have played the demo you'll notice reading this that the training process has changed quite a bit, and it's thanks to the feedback from our dear community. Check it out!
From rookie to elite
Volunteers from all over the country knock at the doors of the recruitment center to be part of the fight against Dragan's forces. Your first step as a recruiter will be to check the recruit's abilities and traits to find the diamonds in the rough. After all, more people means more beds and more expenses, so you'll need to be a bit picky, at least in the early stages until your economy is sustainable.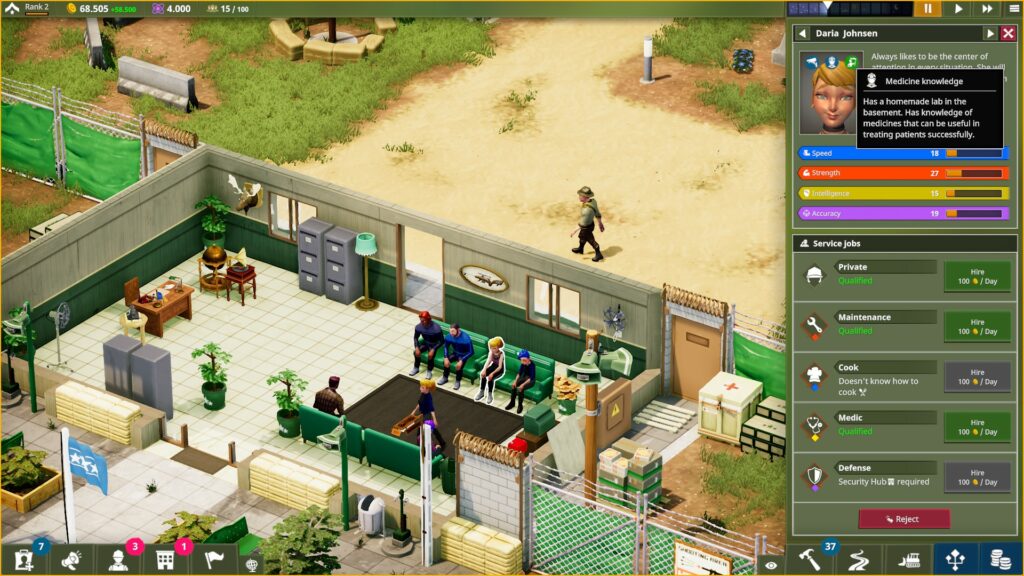 Look at Daria Johnsen, her cabbage farm has been raided by Dragan's goons, and she's ready to join the resistance. She already seems pretty strong  as we can see in her skill score. According to her traits, she also has medicine knowledge, which could be useful, who knows!
Traits can be key when choosing a new recruit, bear in mind they can be negative too, but hey, nobody is perfect.
She will make an excellent artillery expert! Do we have a free bed in our barracks? Good, good. Now, let's assign her a training goal. She might have innate skills, but she can't possibly expect to be an artillery specialist from minute one.
She'll join the camp as a Private, and she'll have to go through the basic training just as anyone else here, until her skill reaches the required level. Until then, we can't send her to missions. Training is her whole life now.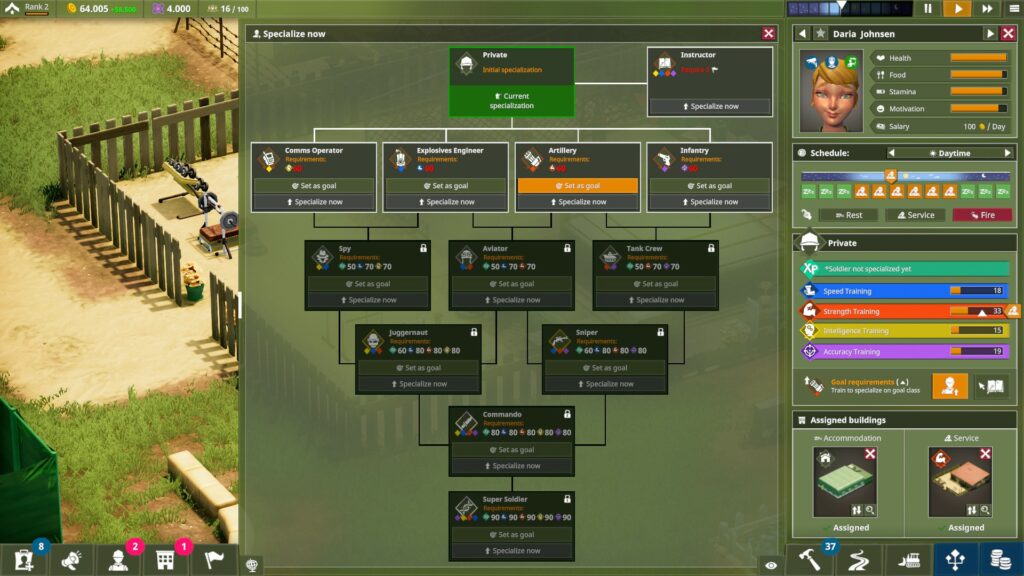 Remember that your recruits need to rest too, or else they may get injured or demotivated. You can set their schedules to daytime or nighttime (in case they are night-owls) and customize the presets from the policies panel.
When the rookie has reached the training goal, it's time to put on the uniform and start with the real stuff! Training in their specialty will give your recruits more XP, which means more chances of success on missions.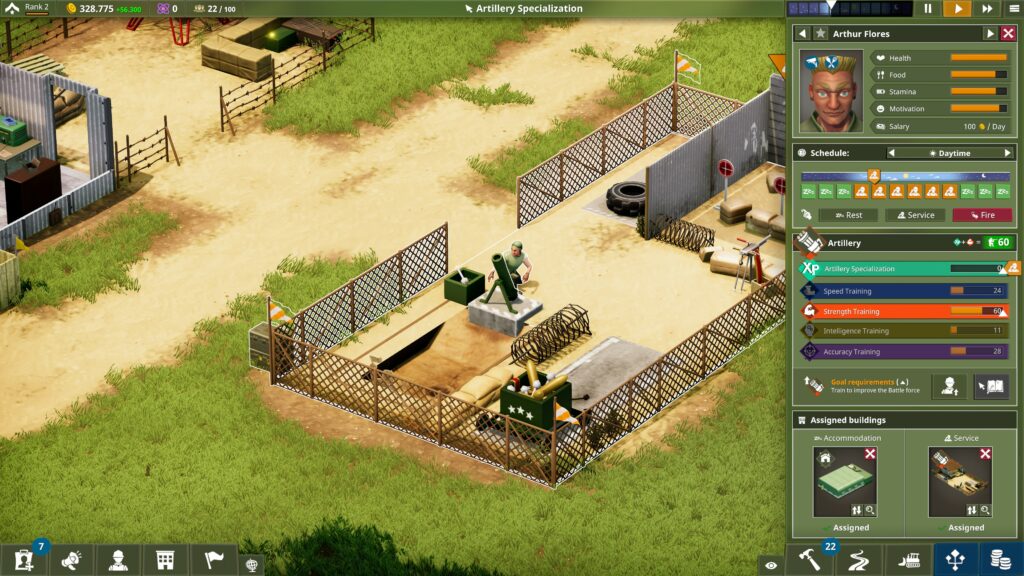 And you know what they say… you never really stop learning. Keep improving your recruits' skills to unlock more advanced classes that will be key in your campaign against Dragan.
Those are the basics! Remember to keep your cadets well rested, with the barracks away from the noisy buildings, give them a nutritious chow in the canteen and place some entertainment buildings for a well deserved R&R time.
With enough experience the students may become the teachers! But that's a topic for another occasion 🙂
What do you think, recruit? Ready to enlist? Jump into our Discord and join the selected players with beta access! New updates are just around the corner and we would love to read your thoughts.
See ya!