The evolution of The Number One
With a 3D appearance graphic motor and third person perspective we have achieved a spectacular graphic quality and render speed for Java terminals.
The artificial intelligence, as has been the case with control, have been carefully designed to favor competitiveness and uphold the rhythm of the race, thus achieving high playability and duration.
Aimed at all sorts of players due to its simple control and fast learning features, it is also satisfying for advanced players, allowing faster cornering, fast lap record beating and adjustment of tires, wings and motor performance.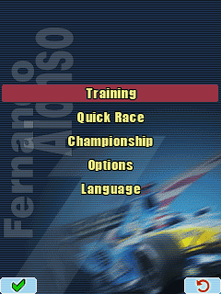 Training single-handedly or race on the circuit of choice; dispute a fast race against another eight pilots controlled by the game's artificial intelligence or compete in the championship mode. In this last mode, the player has to classify the same way as in a real competition: classification lap against the clock to set the starting position on the grid.
JAVA
Publisher: ​Gaelco Moviles
Developer: ​Abylight
Release date: ​​​11/05/2006
Available in: ​English, Spanish, French, German