Amazing Dakar rally adventure
Dakar 2008 is about the Dakar rally adventure that includes a race which has 15 different levels spread across 5 countries.
The players must practice their navigational skills and also lookout for the traps that can cost them precious seconds in their journey of victory.
Dakar Rally 2008 offers three exciting game modes: Rally, Quick Race and Flag Chase.
Rally mode in particular, brings the Dakar race to life with a mix of endurance, speed and control, ensuring a thrilling and fun experience.
Players can kill five minutes with a quick spin, or beginners can get used to the individual tracks before entering the championship in the Quick Race mode.
In the Flag Chase mode, players are provided with five exclusive race circuits on which they can capture flags.

*Dakar Rally 2008 was produced by Gaelco Moviles S.L.*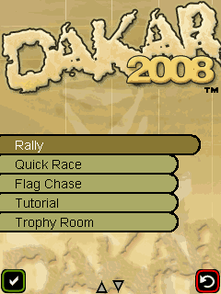 8 / 10 – Pocket Gamer
Silver Award "It might not reinvent the racer, but Dakar '08 is a well produced and challenging driving game filled with enough excitement to satisfy even the most demanding petrol-head"
JAVA
Publisher: ​Electronic Arts Mobile
Developer: ​Abylight
Release date: ​​​14/12/2007
Available in: ​English, Spanish, French, German, Italian, Czech