Roughness of the RAID
Along the way there are many bifurcations; finding out the right option to finish off the adventure will be our goal.
Moreover, we cannot forget the vehicle maintenance: the desert deteriorates its status and the motor can break down, we might even get a flat tire or run out of gasoline. The necessary spare parts to repair the car and refuel are strategically placed along each span of the rally.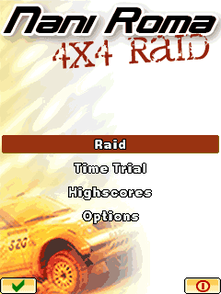 JAVA
Publisher: ​Gaelco Moviles
Developer: ​Abylight
Release date: ​​​Q1/2006
Available in: ​English, Spanish, French
Players can choose between a 6-stage rally, set in the desert & savannah, or race against the clock to beat the record.