Battle of Titans
With 17 opponents, the player can gradually move up to a higher level of tennis, reaching the promise of the Ferrero-Moya challenge.
You will enjoy the volleys, passing shots, moon balls, overhead smashes… and all of this easily and precisely, with every single detail perfectly covered.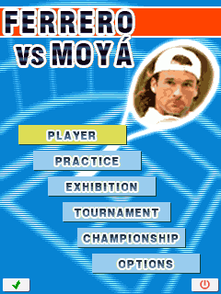 JAVA
Publisher: ​Gaelco Moviles
Developer: ​Abylight
Release date: ​​​Q3/2005
Available in: ​English, Spanish, French, German, Italian
Players can choose a training mode to practice against a mechanical ball launcher, a fast exhibition game against a random opponent, a tournament mode so that all the players from the chosen country will be confronted, and a championship in which four tournaments are successively played in France, the United Kingdom, Australia and the USA.
You can also choose the number of games and sets, three levels of difficulty and grass, clay or carpet courts. Everything you would ever expect form a tennis game, right on your mobile phone!