Incredible adventure
15 totally different scenarios distributed in 5 countries. Drivers will have to be really skilled to avoid falling into natural traps and choose the right route. Otherwise they will lose key seconds to finish the race.
Strategy & Abilities
It won't be only about accelerating; players will also have to plan carefully their strategy to won the championship. The decision will be only theirs: face the dangers of a shorter route or take a longer and easy one.
Dakar 2007 has been specifically designed for mobiles and allows to frequently save the game, meaning we can continue where we left off before.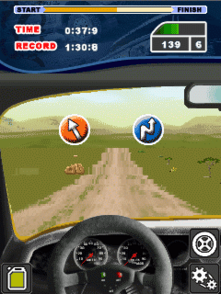 JAVA
Publisher: ​Electronic Arts Mobile
Developer: ​Abylight
Release date: ​​​Q4/2006
Available in: ​English, Spanish, French, German, Dutch, Italian
Only by using their mobiles, players will cross Lisbon, Morocco, Sahara, Mauritania, Mali, Senegal and, of course, Dakar; either by Rally mode or Against the Clock.
*Dakar Rally 2007 was produced by Gaelco Moviles S.L.*