Motorcycles take the race
If you ever wanted to be as Pedrosa, it is the time! Ride in front of your opponents and get the best trace. Finish the championship… if you can!
Moreover, you can play against a friend thanks to the Bluetooth multiplayer option.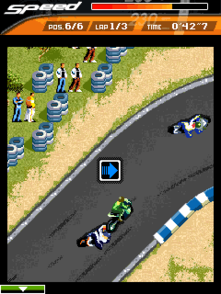 JAVA
Publisher: ​Gaelco Moviles
Developer: ​Abylight
Release date: ​​​Q3/2007
Available in: ​English, Spanish, French, German, Italian
Training: In this mode you can choose any circuit so you can learn its traces, which is basic so you can successfully undertake the championship. You race all alone without the bother of other bikes.
Quick race: In this race you start last on the starting grid, and it's the fastest, most straight-forward way to enjoy the sensations of competition. You can choose any circuits from those you've currently unlocked.
Championship: In this mode, the 250 cc is recreated, covering all the available tracks. As you advance, if you fulfill the requisites, you'll unlock the next track of the championship. First, there is the classifying lap, intended to obtain a better place in the starting grid. Then you'll run the race itself, after which you'll get points for the Championship depending on the result.