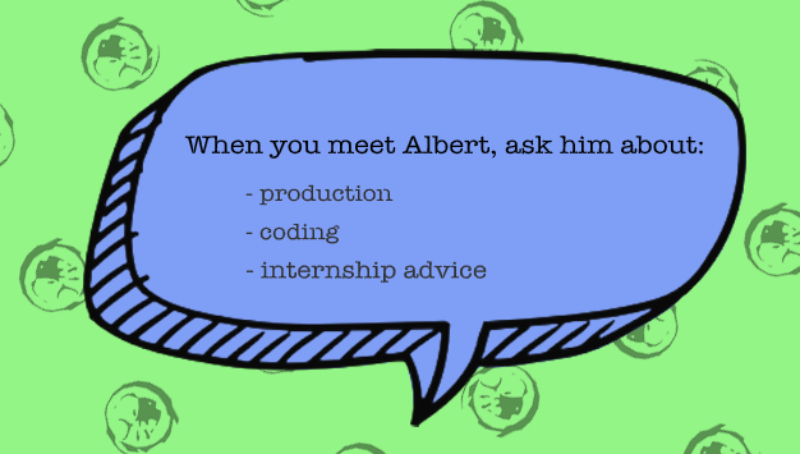 Previously on Abylight Team Spotlight: our CEO and Executive Producer Eva Gaspar shared (just some) secrets of building an efficient and friendly team, and reminded: you aren't an impostor, go build your professional network. ​Catch up on previous stories!
Our Junior Developer Albert Vegara did all the right things way earlier than that post was published!
Here's a proposed attack plan: you apply for internship at a company you admire, work your *everything* off – and later join that team officially.
Albert was in year 2 of his studies, when the Abylight team first reached out to his college looking for game tester interns. For that, one needs to be in year 4… But Albert decided to come to the office anyway, check out the games and make connections! "I told them I need to be in the 4th year for the internship. So I waited until that 4th year, emailed them — and now I'm here", the developer shares. And adds: even then, he didn't expect a response. But it worked out!
Jack Of All Trades
"I started as a QA intern, and then Miguel offered me to join the team to do production", Albert recalls. Eventually, he became "Jack of all trades", doing a bit of everything: from game design, research and production to programming and creating tools. The testing guidelines for Hyper Light Drifter and RC Club are also Albert's work: now you know who to thank, if you're our next QA intern. 🙂
Shortly after, our Creative Director Miguel Garcia Corchero asked what Albert would like to focus on. The answe
r was immediate and obvious: programming and game design!
Being invited to new tasks is among Albert's proudest internship moments: "It felt like — hey, I can do something useful!"
Need for Speed (and for making games)
Albert points out that his way to becoming a developer is very different from the stories of our other teammates: he didn't grow up coding, and his family isn't much into gaming… except for one special title.
Need For Speed for PS2: the game Albert and his father have completed about 7 times, switching between normal mode and getting a car from each competitor. Their own rules were tough: caught by the police? Start over!
"That's how I really got into gaming"
, Albert comments. "I also had a favorite Nintendo DS game. I've always wanted a puppy when I was a kid, and my mother was like — no, no, a puppy is too much work, you have to take it out for a walk, it will destroy the house… get a digital one!" And so he did, in the form of NintenDogs. Now Albert enjoys the company of his girlfriend's shiba dog, and is accompanied by his chonky cat as he works from home.
"I kind of got into gaming by myself. In my school very few people were gamers", Albert recalls. And only when the internet got more common made more steps towards becoming the gamer he is today: "I bought my PlayStation 3, the console I started to hardcore-game on. I had my N64 on which I played Majora's Mask, but that didn't feel really hardcore".
With more gaming came the motivation: Albert was now convinced he wants to make videogames. But his father wasn't so sure. He explained that enjoying games as a player doesn't mean one would equally enjoy creating them. "He's very supportive and a very good dad. But in this he was like…suspicious".
The Backup Plan
"Here in Spain when you turn 16, you start Bachiller at school: it's 2 years before getting into college where you can specialize in technology, science, social studies or arts. So I got into Technology. The second course of Bachiller has a year-long assignment of your choice – in addition to the usual subjects. So I decided to make a videogame. I created it and liked it, and understood: it's my thing, I want to get into the videogames industry."
Albert didn't find a university for gamedev specifically, and took up Engineering and Telecommunications. However, after a month he realized he doesn't like this direction at all, and told his father about his alternative plan: dropping out, getting a job, saving some money, and starting in videogames the following year.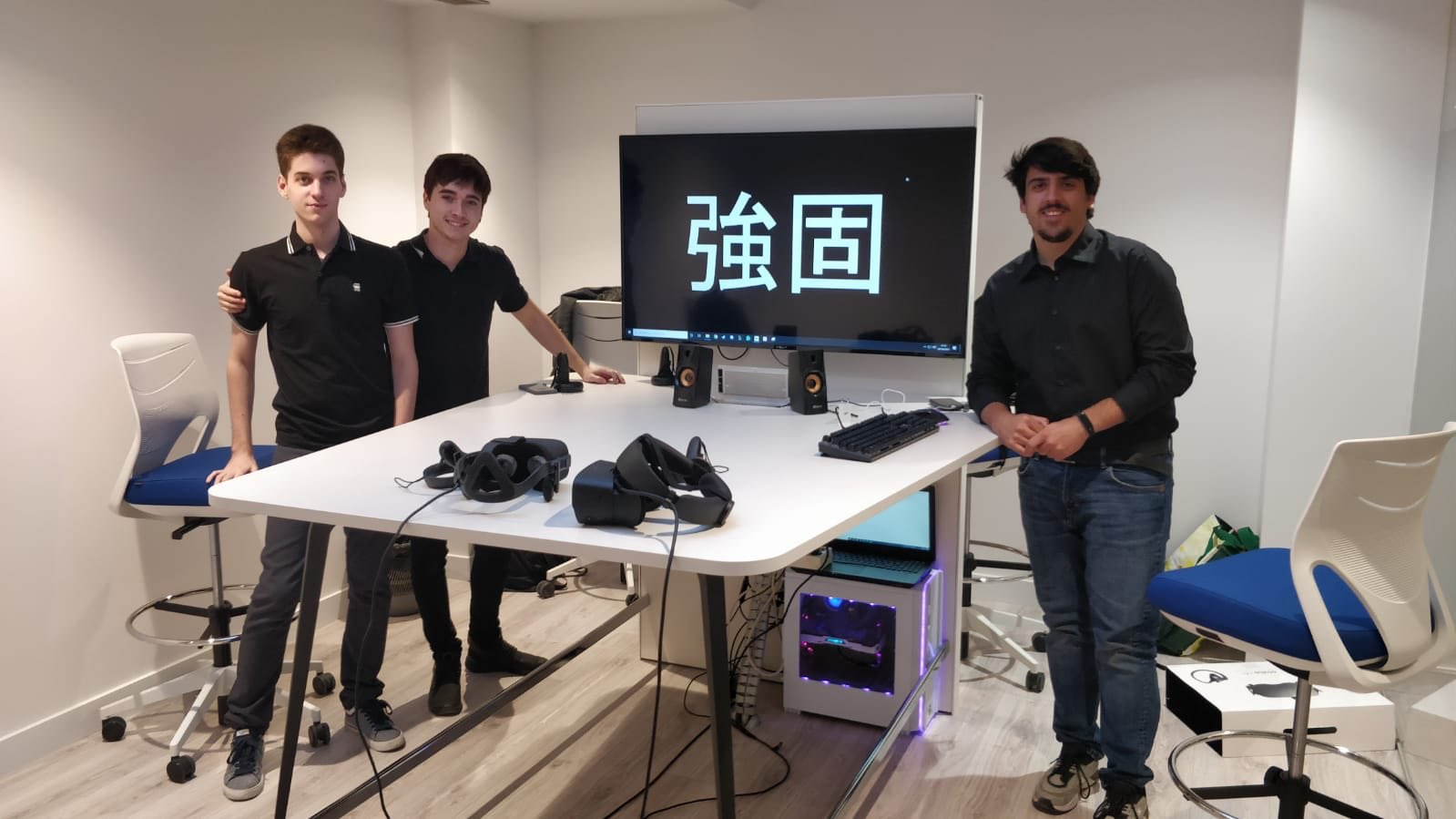 And so he did: dropped out of college and started working at a game studio. "Honestly, I have no idea how I got that job, because I had no experience", Albert shares. "But I knew how to code in Unity, learnt this in my Bachiller assignment. I got into a super small studio that made mobile apps for children".
​As he promised earlier, in 6 months he got into the ENTI college – where on year 4 he did that internship at Abylight, which eventually got him the job.
"Only at Abylight"
​Here's the main thing: Albert has turned down numerous design and programming internships, all because he wanted to do it at Abylight. "I discovered Locomalito's games like Super Hydorah, 5-6 years ago, and was like — wow, this company is super cool, I want to work here. I said — I am going to work at Abylight, that is 100%".
What does he play?
One more thing Albert succeeds in is gaming while working in videogames. "I'm super obsessed with Captain Toad on Switch — it's like the cutest f****g game ever! It's a small toad making cute noises, and supercute music, and art… I'm talking about it with a smile on my face like a little kid, like — oh, this is so cute!"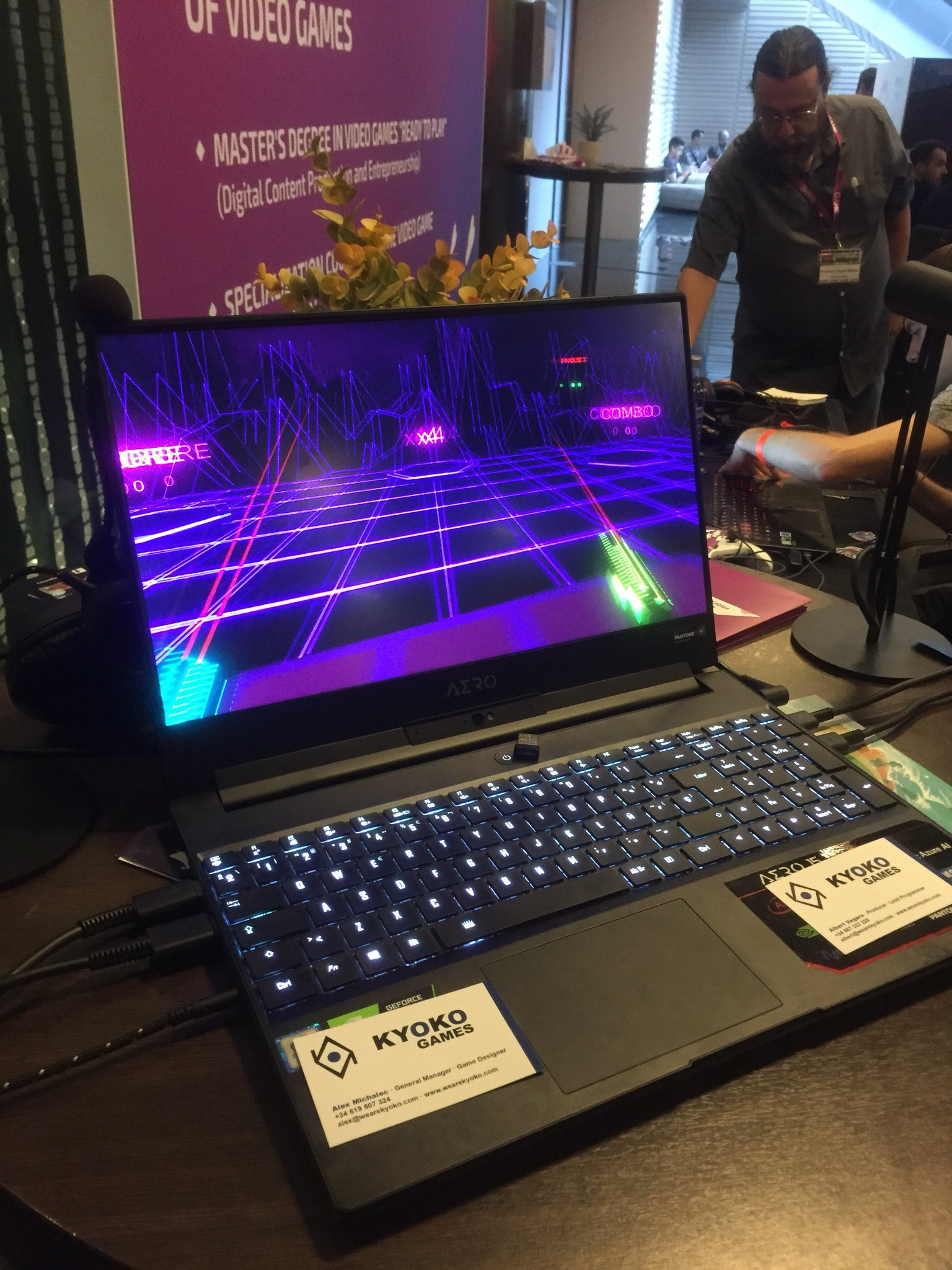 Good at RTS, terrible at turn-based strategy games, is how Albert describes his gaming skills. "Games like Age of Empires are supercool, because I'm a genius in planning long-term stuff. I think it can be a common trait of all programmers, we're super methodical", the developer assumes. "But if I have to be mechanically good — I'm terrible! Like in fighting and shooter games. So when I won against Javi in Tekken, I never played with him again", Albert shares. Javi is also our developer and, in addition to exceptional programming superpowers, is known for impressive Tekken skills.
Among other Albert's faves are Pokemon Shield, Death Stranding… and, of course, Animal Crossing!
During the lockdown, it was Albert's escape from the grim reality, and also a research field. More often than not, gamers who become game designers pay attention to game aspects they otherwise wouldn't even see. "I noticed some really fortunate design decisions, as well as some that I don't understand: like not being able to buy things from TeleNook while someone is on your island. I also tried to figure out why some decisions were made: for instance, why you can't place things on your island while someone is there".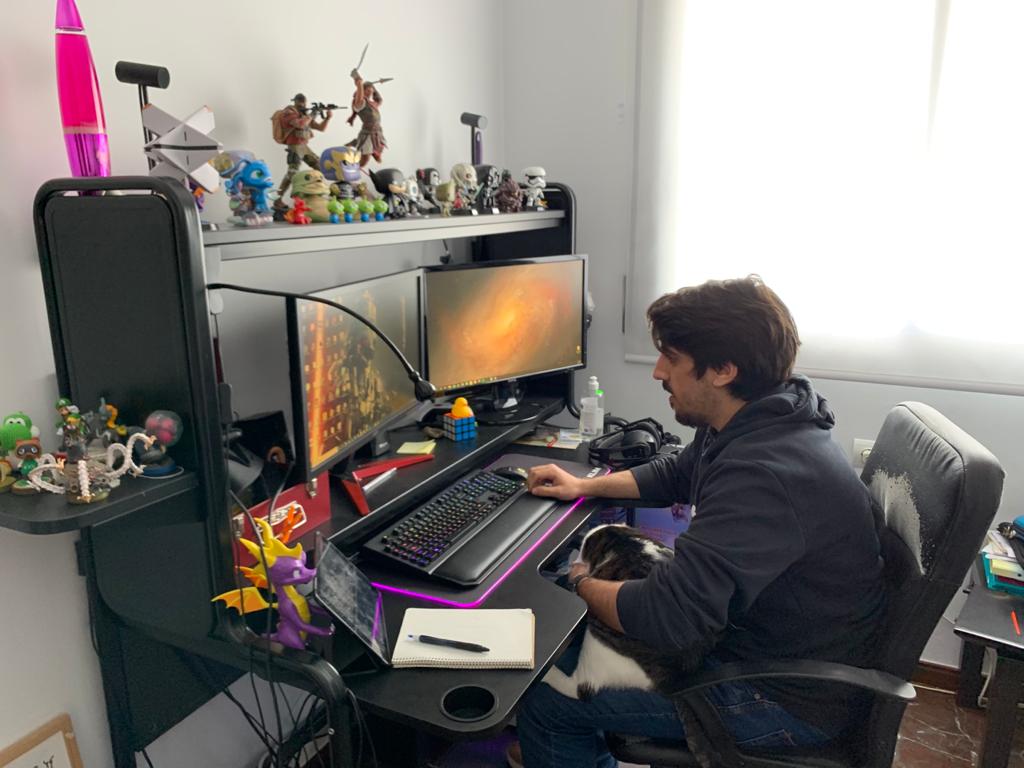 How to use your gaming skills at work
Albert's thing is strategy gaming: and now that he's been with Abylight for some time, he's in charge of production, helping our Creative Director Miguel as our team is growing. "I assign tasks to teammates, keep an eye on deadlines and deliveries".
He's also the first person to answer pretty much any game design question: Albert, Miguel, and our other developer Victor are in charge of writing the game design documents for our recent projects. "I learnt a lot about game development and good work methodologies", Albert says. "I've been given a lot of responsibility in the studio, and that's something that makes me super proud. But, as always, life is about improving, and I want to keep learning and growing".
Albert's favorite thing is that the most experienced teammates have valued and appreciated his work from day 1. And recently he's excited about a new project of Abylight, and is super motivated to proceed with it.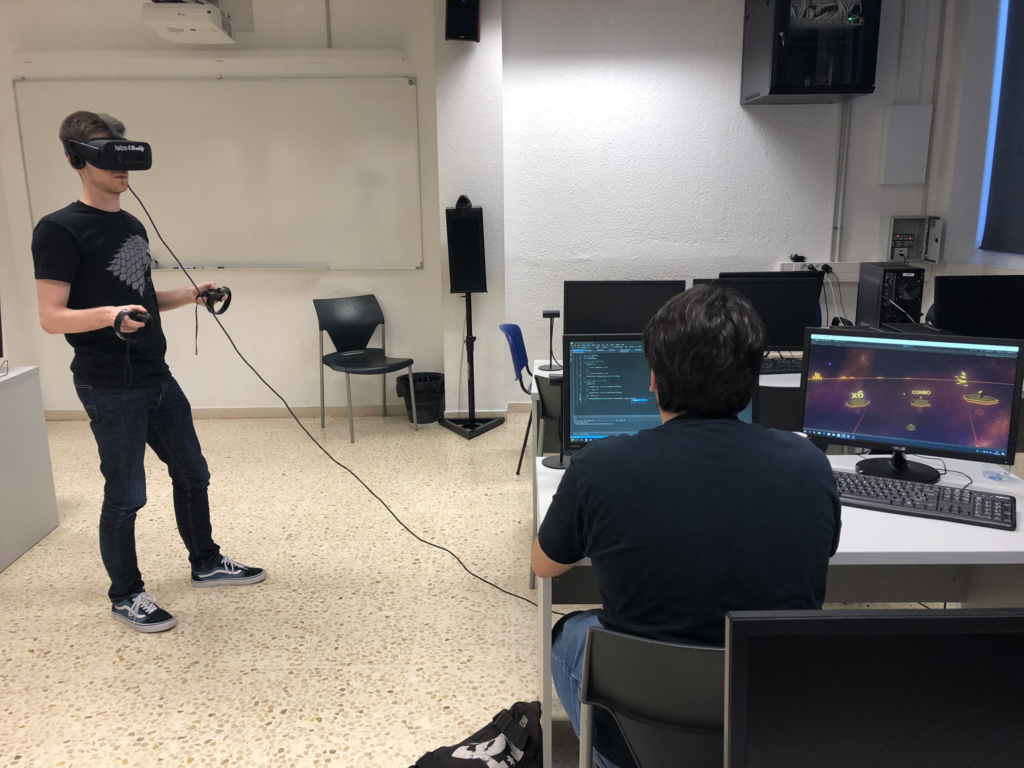 …including from home
Like everyone at Abylight, Albert is currently working from home. While he enjoys a flexible schedule and not having to commute to and from work for an hour and a half, he admits it's harder to focus. "And I miss lunchtimes and seeing my coworkers!"
Last but not least, here's a #WFH focus trick from Albert: "Put your headphones on and play some music. I get into a "full concentration" state and feel like I'm 10x more productive".