2015 was a great year for retro-styled games. We got hundreds of new games thanks to the Indie scene but also big companies like Nintendo have joined the trend with games such as 'NES Remix' and 'Super Mario Maker'. Not to mention the new arcades and consoles that emulate the classics almost to perfection. So, yes, retro is still fashionable, and if anyone knows about it in our team, that's Alberto J. González, Co-founder of not only Abylight Studios but also Bit Managers.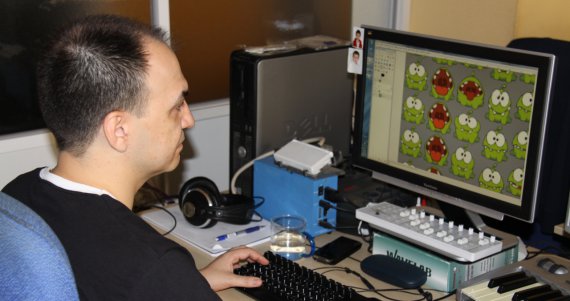 Alberto working on Nintendo 3DS version of 'Cut the Rope'
Time flies! Last year was the 25th anniversary of his first title for the ZX Spectrum computer, 'Hostages'. Oh boy! A lifetime dedicated to video games. Although the game that we are talking about was released in 1990, Alberto started tinkering with Spectrum and the music software Wham! The Music Box a couple of years before (he was 16 years old). Since then, classic platforms like SNES, Game Boy, Sega Master System, Sega Game Gear, Game Boy Color, Game Boy Advance, PlayStation, DSi, Wii, or more recently iOS, Android, Nintendo 3DS and Wii U have played his music and shown his graphic art.

'Hostages', a game ahead of its time
At the same time, we live in a new "gold era" of classic-styled gaming and, as you may have noticed, it has also begun to proliferate a broad collection of books documenting the roots and origins of this phenomenon. The new generation of players have been surprised by an outlook that is very distant from the standards heading the gaming industry, awakening in many of them the need to go back in time through the pages of those books. But not just players, a new generation of developers are seeking inspiration in those pages and systems such as Sinclair ZX Spectrum, Commodore 64 and MSX. As a result of this new wave of literature, works that were long forgotten have been re-discovered and with them the people that helped in their development; either because of nostalgia or their own merit in the history of video games.


Volume 1 of The Story of the ZX Spectrum in pixels
Among those special publications, we can highlight 'The Story of the ZX Spectrum in pixels' which is a Fusion Retro Books series with three volumes so far. Alberto González collaborated on two of those volumes, recalling his beginnings as a programmer, graphic artist and musician. Here at Abylight we are very proud of his feats, filling us with joy and a bit of nostalgia. In the second volume you can find his comments on the technical aspects of sound along with other great composers of the platform. In addition, for those more interested in learning about the man himself, the book also includes a biography. ZX Spectrum enthusiasts can also enjoy the history of this platform at 'Sinclair ZX Spectrum: A Visual Compendium' from Bitmap Books, which also adds some of Alberto's comments about his experience as a graphic artist.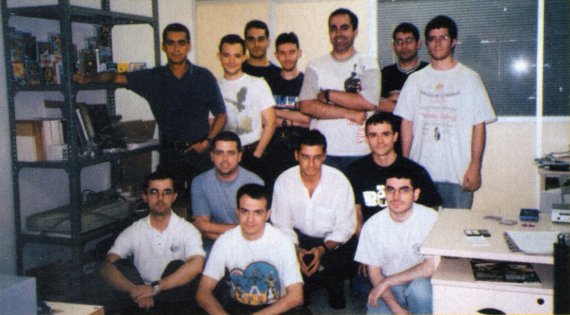 Alberto's (down center) team in 2001
After a couple of years working for New Frontier and participating in the acclaimed 'North & South', he founded his own studio called Bit Managers. Despite his previous experience working as a graphic artist, he focused exclusively on music and sound effect department. Alberto, as a member of Bit Managers, composed music for more than thirty video games across a broad selection of platforms; especially for Nintendo handheld consoles like Game Boy, Game Boy Color and Game Boy Advance. After that experience with Nintendo games, it is not surprising that early last year he felt too excited (almost in tears) after receiving a special tribute in which he received an album with 13 songs included in soundtracks of Game Boy games, played with real instruments. No doubt, it is something he should be very proud (and we are too).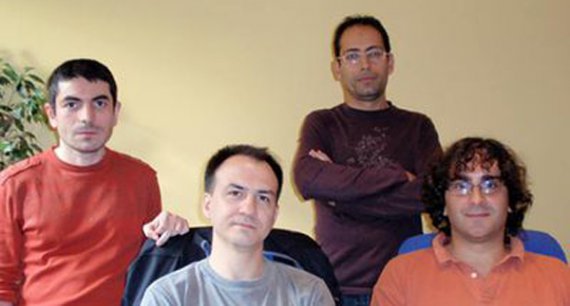 Abylight Studios founders posing for a Spanish newspaper in 2008
Regarding pride and tributes, we should not forget the great passage of the magazine 'I had a game'. An extensive 12 pages of Alberto's interview was published as part of its 10th volume. Thanks to this publication, many of the new members of Abylight's team could learn some secrets about the founder and even more surprising, they could check unreleased material of some old games for the first time. The story received a great reception cataloguing some of those unpublished samples as gems. We cannot miss either the special mention of his work in the book 'Genesis: Essential Guide Spanish 8-bit video games'.
We are afraid that if we keep writing about tributes, appearances, interviews and other related content, we will never end this post. So we want to finish it as we started, celebrating Alberto J. Gonzalez's 25 years in the video game industry one more time.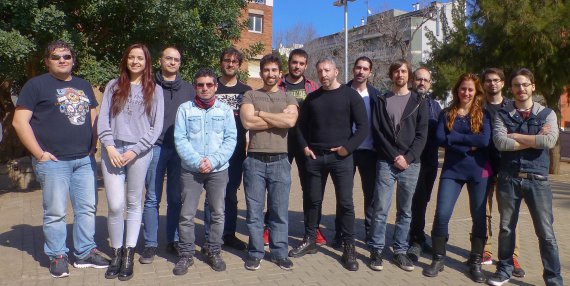 Abylight Studios' members in 2016
Thank you very much for all your contributions to the video game industry so far. We look forward to the ones to come!
Eva Gaspar, CEO of Abylight: "After 25 years in a row engaged in professional game development, Alberto still has the same restless spirit of the early days"
Ricardo Fernández, Chief Programmer Abylight: "There is too much to tell about Alberto, it is not easy for me to synthesize it in a unique phrase, but I can say for sure, he is an excellent partner."