I'm sure you've asked yourself this question more than once when thinking about video games, films, series, books, or songs: what were the people behind them thinking?
Although as publishers the ideas for games come to us most of the time, as developers we start from a blank sheet of paper and that's when it's most appreciated to have a great team behind us with a wealth of experience and rich tastes in terms of audiovisual culture.
What do you mean, video games are inspired by other entertainment and cultural products? Of course they are!
How the idea for the development of One Military Camp came about
One Military Camp is the latest project that Abylight Barcelona has under development. It is a strategy, simulation, and management game in the style of city builder games; set in the military world but with a cartoon aesthetic and small details that will make you smile while you play.
If you haven't added it to your Steam wishlist yet, add One Military Camp to your wishlist now.
It's not a secret that we are big fans of games of this genre, especially after the release of Prison Tycoon: Under New Management with Zyggurat Interactive last December 2021. This time we wanted to develop it from our own preferences and tastes, and that's where our main references came into play:
Anno 1800 (game)
Although at first sight, you won't find many similarities between Anno 1800 and One Military Camp, one thing is clear: you must always have great references as a base when you want to make a game within the same genre, which in this case is the city builder genre. We have also adapted the ship expeditions that you can do in Anno 1800 to get more resources and discover new places to our project with the missions through different territories with which you can get succulent rewards to increase the experience of our soldiers and improve your camp.
Evil genius (game)
The specialization of henchmen and off-base missions were two of the biggest influences on this strategy game from the early 2000s. The overhead view of the game can also be appreciated in One Military Camp (and other similar games), as it is certainly one of the best options to have several simultaneous tasks under control and an overview of the scenario.
Hogs of war (game)
Only veteran gamers will remember this "gem" (depending on how you look at it) that came out in 2000 on the PlayStation. The game is an obvious parody of military films, so it is not surprising that all the characters are chubby pigs in different coloured uniforms. Although One Military Camp is not an RPG game, it does have some RPG characteristics, such as the development of characters through different branches of specialization during their training; similar to what we saw in Hogs of War with the Engineers, Medics, Spies, and Heavy Weapons specialists.
Two Point Hospital (game)
You'll need only a few seconds of Two Point Hospital gameplay to see how it has influenced us in creating One Military Camp. The cartoonish look of the characters, the player view, and even the building options; something we already used as a base for Prison Tycoon: Under New Management. This works on the gameplay and players love, and which we couldn't help but use for our own game as well.
Letters from Iwo Jima (film)
This 2006 film shot entirely in Japanese is much more serious in nature than One Military Camp, as it deals with the battle of Iwo Jima during World War II. However, there is an iconic speech by the general to his soldiers that was a great inspiration for building the patriotic and honorable character of our sergeants, and especially the whole narration in our announcement trailer for the game.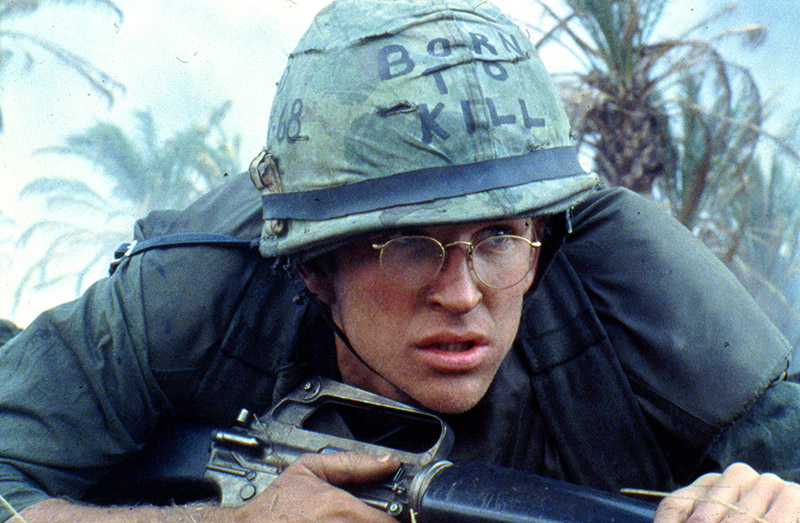 Full Metal Jacket (movie)
Beyond the war inspiration, what you can really detect at a glance is that our lead sergeant, featured in the trailer and in many of the gifs and screenshots we've shared so far about the game, is deeply based on Sergeant Hartman from Full Metal Jacket. A ruthless and uncompromising guy who will lead our soldiers on the right path to becoming elite troops.
War Pigs (Black Sabbath) (song)
Well, definitely one of Black Sabbath's most famous songs sounds a lot more hardcore than our "friendly and fun soldier management and strategy game". However, if you pay attention to the lyrics there are a couple of phrases that certainly fit very well and will make you understand why from time to time this plays in our heads while developing One Military Camp:
"Making war just for fun
Treating people just like pawns in chess"
A perfect metaphor for a video game like ours!
We are happy to share more process details with you in this adventure of the development of One Military Camp. It's very important for us to feel that the community is interested in our projects. We think it's also interesting for players to know what's going on in our minds, and the steps step that brings us closer to the expected release of the game.
We invite you to join our Discord channel to know more about our games and news from Abylight, our Twitch channel if you want to meet us and have a good time with us.