We launched a new category on Abylight Studios' Twitch channel a few weeks ago, Art-astic! This is a series of periodic streams where we discuss as an indie game developer the development process behind One Military Camp.
This first stream features Irina from Abylight Studios's Marketing team and Luly from Abylight Barcelona's 3D team. They covered character game design, particularly the creation of some of the basic models (and some of the most representative ones) of this new management, strategy, and simulation game set in the military environment – without leaving aside our typical touches of humor – that we are currently developing.
Highlights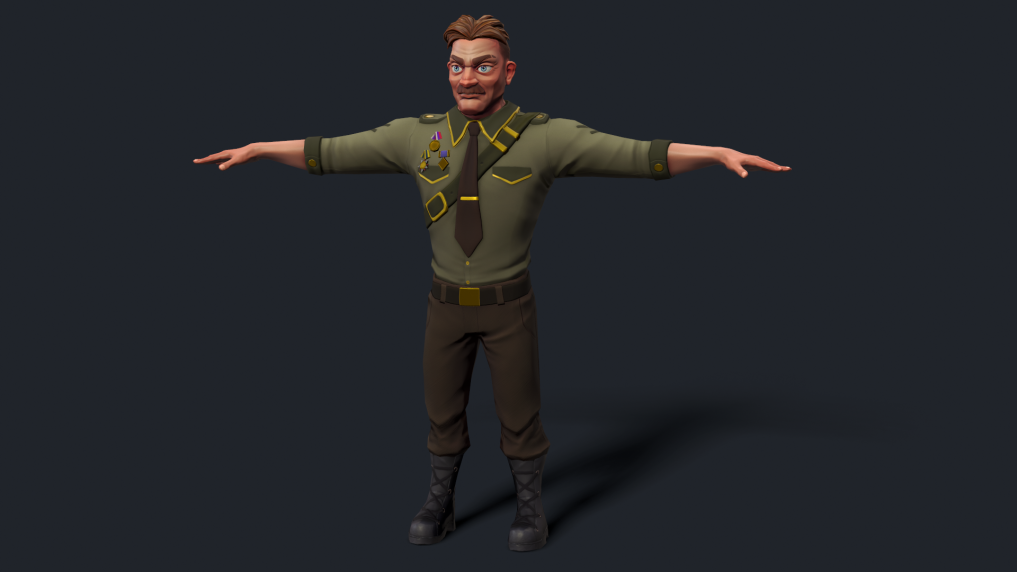 1. Visual style
For One Military Camp's game design, we used a color palette closely tied to camouflage colors: gray, green, brown. This is a great way to make players quickly identify the essence of the game through aesthetics. It also makes it easier to spot other elements that add personality to the characters and other elements with completely different colors; such as colorful hairstyles.
2. Character specialization
We could say that One Military Camp will feature some typical components of RPG games, such as character specialization. This will allow players to train soldiers in specific buildings to develop their skills in a specific branch. For example, training them to become elite spies.
Some previews are already available on what the characters' uniforms will look like and what the buildings assigned for their training are like, as well as the different levels of improvement. Yes, buildings can also be upgraded to make training better and more complete!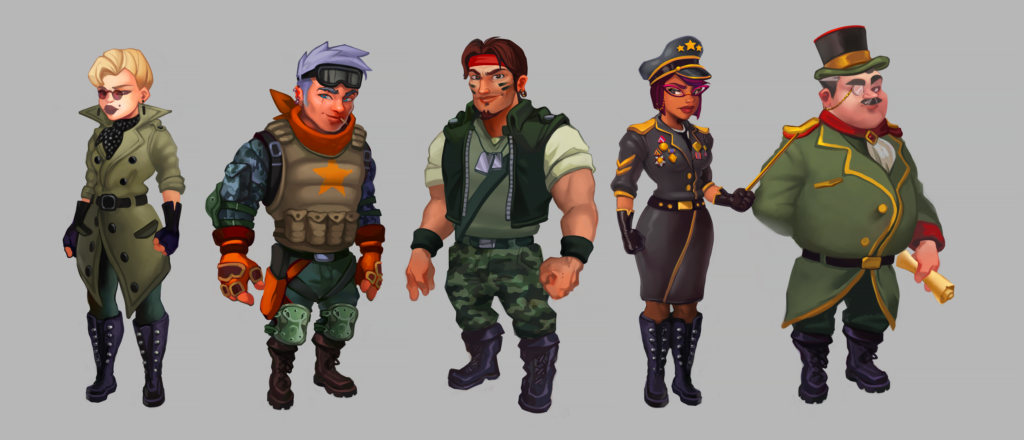 3. How to create hundreds of different models without dying in the attempt
In One Military Camp, we can find a huge amount of foot soldiers with different physical traits, and variety. These add richness to our games and make more players feel identified. But how to achieve this without modeling each of these soldiers (which would lengthen the development process a lot)? With a randomly configured system of bodies, heads, and hairstyles!
We discussed this topic in-depth in our weekly Devlog Series on Steam, which we hope can inspire fellow indie game developers and other industry professionals.
4. Using the concepts as a base
The models do not start from the imagination of whoever creates them. Luly explains how she relies on the concept arts created by María Ayuso, also a member of the Abylight art team, to create each model. On one hand, the possibilities of the subsequent modeling are usually taken into account. On the other hand, sometimes it's necessary to delete or adapt some elements that appeared in the concept in the final character, building, or object due to technical difficulties.
Watch the full video of this stream on Abylight's YouTube channel for more details on character game design.
Curious to know how we managed to create the concept arts from the initial briefing? Make sure to check out this Devlog written by María herself developing this process in detail.
The launch of the One Military Camp wishlist means a new series of streams featuring members of our indie game development team. Don't you want to miss it? Follow us on Twitch.
Join our ranks by adding One Military Camp to your Steam wishlist, and let's chat about video games on Abylight's Discord.